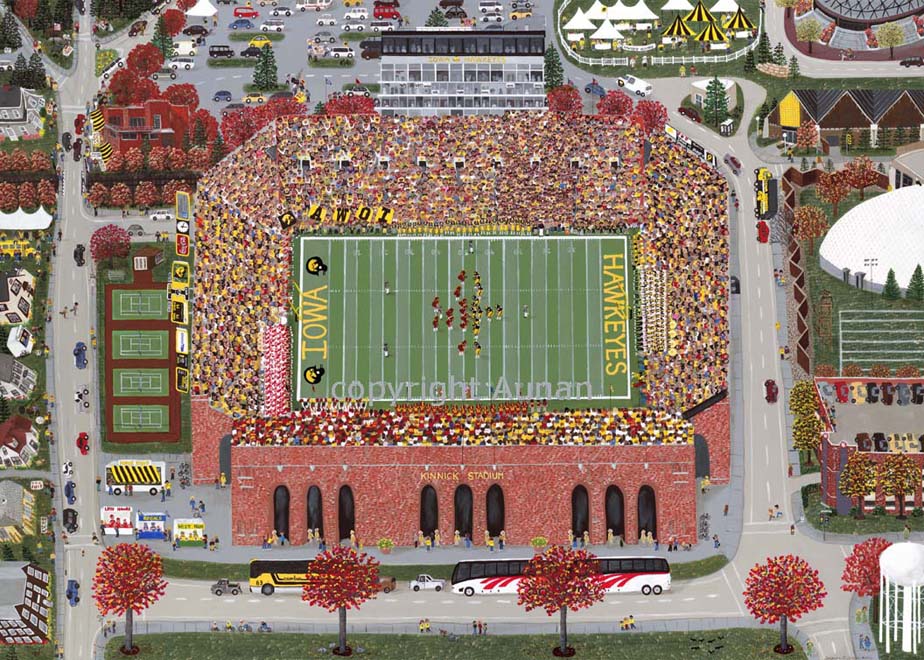 An Autumn Day at Kinnick Stadium
Iowa is a friendly and welcoming place to live. Well, a least it is for 364 days of the year. There is one day each fall when the atmosphere changes. Although the in-state competition between Iowa and Iowa State Universities is quite serious, it is also a fun day of tailgating, cheering for your favorite team, enjoying the bands and the colorful crowd, and having a down-right great time in Iowa. The spirit of rivalry of this annual event is as "Iowa" as the corn we grow.
In this print: Coach Hayden Fry on the sideline, Iowa and Iowa State Bands, Hawkeye Village, Hedlund dental office, the "Magic Bus", Smiley smiling, an eagle, University Heights policeman giving a ticket, UI Rec Center bird problem, Santa Claus and the Easter Bunny, a man with a handle-bar mustache, senior citizens kissing, a pregnant lady in labor walking to the hospital from the game, the student section "passing" a person and a beachball, Bump Elliott is in the press box, radio stations: KGRN, WHO and Jim Zabel with a friend, WMT, KXIC, KWPC, CORN, KOTH, KHAK, a Cambus and a Tri-State Tours bus, the "bubble," Klotz tennis courts, the crowd doing a "wave", City High, West High and Regina food stands, ETC!
---
image size:
unframed:
framed:
Lithograph
10″ x 7″

$59 

$159  

Limited Edition (1000) Lithograph
17″ x 12″

$94 

$219  

Limited Edition (1000) Lithograph
29″ x 21″

$199 

$419 

Limited Edition (100) Canvas Giclee
29″ x 21″

$849 

$1099  

University of Iowa Commemorative Edition Lithograph
17″ x 12″
—

$269
$399 Wood Frame

Limited Edition (100) Canvas Giclee
42″ x 30″

$1299 

$1819  
---
"The Big Game" Porcelain Ornament
3″ x 3″ round porcelain ornament is signed on reverse and packaged for gift giving.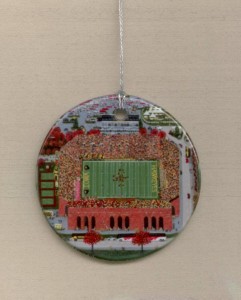 $28.00 and $5.95 shipping
---
Prints below are from "The Big Game":
Titled and signed in pencil by the artist, these 8″x10″ or 11″ x 14″ unframed prints fit standard size frames:
The Big Game 1
8″x10″ $29.00
11″x14″ $39.00

The Big Game 2
8″x10″ $29.00
11″x14″ $39.00

The Big Game 3
8″x10″ $29.00
11″x14″ $39.00

---
Below are details from the painting:
| | | | |
| --- | --- | --- | --- |
| Radio stations, announcers, Bump Elliott and others in the press box | High school food booths: City High, Regina and West High | The tents of Hawkeye Village | Getting a ticket in University Heights, cookie sales and a limo |
| The sidelines, cheerleaders, and a wave is forming | The Magic Bus and Big Turkey Legs on Melrose | Smiley is waving | The sidelines, Herky and Cy are going at it as the Golden Girl stands by |