Each painting is one-of-a-kind signed by the artist.  Rights to these images remain the property of the artist and family.
Thank you!
"Four Fish"

SOLD

"Snowy Old Capitol"

SOLD
---
"Iowa State University Midnight"
Ames, Iowa
Acrylic wash on canvas giclee
18″x22″
I originally painted the campanile in Ames in 2008 after visiting there several years ago with a friend. I was shocked to see such a beautiful campus, so close in Iowa, and astounded that I had never seen this place, only a little over 1 h from my home in Iowa City. After I completed the painting, my friend said I had it all wrong. I should have painted it at midnight with kissing. So I took a large canvas giclee of my daytime campanile painting and repainted it and included her and her husband kissing. Here it is. Lithograph prints and canvas giclees are available for this painting on my gallery website www.sbaunan.com, as well as porcelain ornaments.  Prints available, including at the Octagon Gallery in Ames.  Painting size is 18″ x 22″, on canvas 22″ x 26″.  Unframed.
Artist Statement which is included with all prints:
Iowa State University's Campanile was built in 1898 as a memorial to the first dean of women Margaret MacDonald Stanton, by her husband Edgar W. Stanton, acting president of the University. It remains a much loved symbol of Iowa State University today. A kiss under the Campanile at the stroke of midnight has become an Iowa State tradition.
---
"Artichoke"

SOLD

"Lobster"

SOLD
---
"The Big Night Game"
Iowa vs. Penn State at Kinnick Stadium
Nov. 8, 2008
Acrylic wash on canvas giclee
2011
Framed with museum grade mat and backing, black Nielsen metal frame.  Signed lower right. Painting:  42″ x  30″.  Framed size: 56 1/2″ x 40 1/2″.  Prints available.
Artist Statement:
"The Big Night Game"
This painting of Kinnick Stadium is of the famous night game on Nov. 8, 2008 when the Hawkeyes and Coach Ferentz had a last second win over the Nittany Lions, lead by Coach Joe Paterno. Included in this painting: the new Paul W. Brechler press box, "the kick" from the 21 yard line by Daniel Murray (#1) in the last second of the game, ball holder Ryan Donahue (#5), the Hawkeye fans were a "black out crowd" while the students have a "green out" to show support for Shonn Greene for the Heisman Trophy bid, the new turf (which was not installed until the following summer, but is included because it is so vivid and beautiful). Bump Elliott is in the press box. The game was televised nationally. It was cold with NW wind, wind chill dipping into the 20s. It was a beautiful night and we all remembered how great it is to be a Hawkeye.
---
"The Big Game"
Acrylic wash on masonite board
2002
Framed with museum grade linen mat, black Nielsen metal frame.  Signed lower right.
56″ x 40″, framed: 64″ x 48″.
"The Big Game" displayed at FryFest 2013: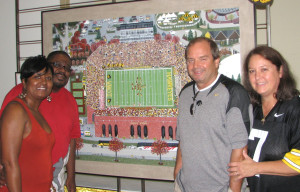 Hand-written thank you from Coach Hayden Fry: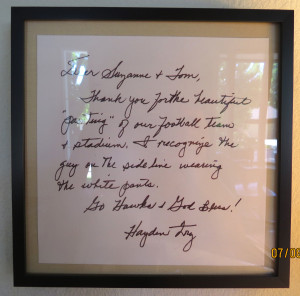 "THE BIG GAME"
An Autumn Day at Kinnick Stadium
Iowa City, Iowa
Iowa is a friendly and welcoming place to live. Well, a least it is for 364 days of the year. There is one day each fall when the atmosphere changes. Although the in-state competition between Iowa and Iowa State Universities is quite serious, it is also a fun day of tailgating, cheering for your favorite team, enjoying the bands and the colorful crowd, and having a down-right great time in Iowa. The spirit of rivalry of this annual event is as "Iowa" as the corn we grow.
In this print: Coach Hayden Fry on the sideline, Iowa and Iowa State Bands, Hawkeye Village, Hedlund dental office, the "Magic Bus", Smiley smiling, an eagle, University Heights policeman giving a ticket, UI Rec Center bird problem, Santa Claus and the Easter Bunny, a man with a handle-bar mustache, senior citizens kissing, a pregnant lady in labor walking to the hospital from the game, the student section "passing" a person and a beachball, Bump Elliott is in the press box, radio stations: KGRN, WHO and Jim Zabel with a friend, WMT, KXIC, KWPC, CORN, KOTH, KHAK, a Cambus and a Tri-State Tours bus, the "bubble," Klotz tennis courts, the crowd doing a "wave", City High, West High and Regina food stands, ETC!
-Iowa City artist, UI alum, and UI Mom Suzanne B Aunan
Details from "The Big Game":
| | | | |
| --- | --- | --- | --- |
| Radio stations, announcers, Bump Elliott and others in the press box | High school food booths: City High, Regina and West High | The tents of Hawkeye Village | Getting a ticket in University Heights, cookie sales and a limo |
| The sidelines, cheerleaders, and a wave is forming | The Magic Bus and Big Turkey Legs on Melrose | Smiley is waving | The sidelines, Herky and Cy are going at it as the Golden Girl stands by |
---
"Antique Kitty"

SOLD

"Katie Age Three"

SOLD
---
"Wrigley"
Acrylic on masonite board 48″ x 34″
My son Jeff is a dyed-in-the-wool Cub's fan. He has been asking me to do this painting for a long time. A year ago, Jeff came out of the orthodontist's office with his new braces. He had chosen red and blue rubber bands which attach the metal bands to his teeth. I said "Oh, how patriotic! Red, white teeth and blue.. nice Jeff!" He replied "Duh Mom…Cubs!" I decided it was time to start this painting.
Special thanks go to my sonfans, the "Bleacher Bum Band" is playing next to Harry Caray's statue, Santa is in the bleachers e Jeff (age 14), Zack Anderson (age 17) and Nathaniel Gier (age 12), for their expertise and research help. I could not have completed many of the details involved in this painting without the help of these expert Wrigley and Cubs' afficionados. They have all been included in the painting along with their families.Included in this painting: "Ball hawks" waiting to catch an out-of-the-ballpark home run on Waveland Avenue, fans enjoying the view from rooftops, Wrigleyville Fire Station and Engine #78, the "El" train, a plane taking off from O'Hare, Lake Michigan, an open fire hydrant with children playing in the water as the firemen watch, Ashland Avenue with the TORCO sign, many cheering fans, some with "K" signs, the "EAMUS CATULI" rooftop sign and enjoying the game too….ETC.
---
"Geraniums II"

SOLD

"Nantucket Floral"

SOLD
---
Mini Paintings
Each mini painting is hand painted acrylic on illustration board, and measures approx 3.25″x2.5″.  They are available:
— As an ornament with red ribbon (signed on back), $40
or
— Mounted with custom cut mat with art paper edging, (mat is signed by the artist) which fits any standard 8″x10″ frame, $49.  Mat is neutral linen-look, or a few embossed acanthus leaf still available (supply is limited).  Please ask about custom orders.
Floral Heart

Floral Heart

Special Order

Happy Birthday

Snowman Blue Striped Scarf

Hiking Santa

I Love You Pillows

Christmas Tree

Fireplace 4 Stockings

Jumping Deer

Snowman Red Striped Scarf

Dog on the Farm Yellow

Moonlit Farm

Pink Floral

Floral Heart

 

Dog on the Farm Black
---
"Black Lab Jeb"

SOLD

"Ship"

SOLD

"The Big Cauliflower"

SOLD

"Three Kitties"

SOLD

  "Baltimore Album Quilt"

SOLD

"Pink Floral Quilt" unfinished

"Train Quilt"

SOLD

"The Party"

SOLD
---