NEW calendar for 2018 is now available!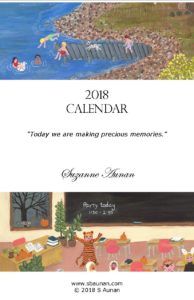 My new 2018 art wall calendar is 5.5″x8.5″ on bright white 110 lb paper is created with details from my paintings. "Today we are making precious memories." Today we are.  Packaged in clear bag, ready for gift-giving.  Have a wonderful and healthy New Year 2018!
And I want to send a big THANK YOU!  to my representative Reiko in Japan who has secured a large wall-size 2018 calendar featuring my art for the Japanese market!
NEW PRINTS:
Updated "University of Iowa Medical Campus" and "Celebration at Wrigley Field" prints have arrived!
Whether you are looking for a fine art print, a special gift or commissioned painting, I hope you will find it here. All currently available prints are listed on the All Paintings page. For information on commissioned paintings, please contact me directly. To see what original artwork is currently offered for sale, click HERE.  Thank you for visiting!
Email sbaunan@mchsi.com for any questions about your online order. Include shipping address and we will reply with total shipping due. If shipping to an Iowa address, please add your local sales tax.  All shipping prices are USA only.
All prints can be made to order in your preferred size (with some limits.) Also, paintings can be digitally "cut up" to make a series of coordinating prints. Please ask for your special requests.
All I want for Christmas is a goat!

You can get your goat also at: http://donate.worldvision.org

Merry Christmas and a Happy and Healthy New Year all year long!

Thank you to all,

Suzanne Aunan

Did you know that you can

Visit http://marrow.org/Home.aspx today!

Visit Suzanne Aunan Gallery: